1. My mom sent me home-crafted fingerless gloves for Christmas!
They are so nice for keeping at the office, because it is always so cold in here, and I can easily wear these while working on my computer. Nevermind those people who keep asking, "Are you cold, Meghan?" Not anymore!
2. I sort of laughed a lot about this xkcd comic
from earlier this week. (Note that if you go to the actual link you can see the mouseover text.)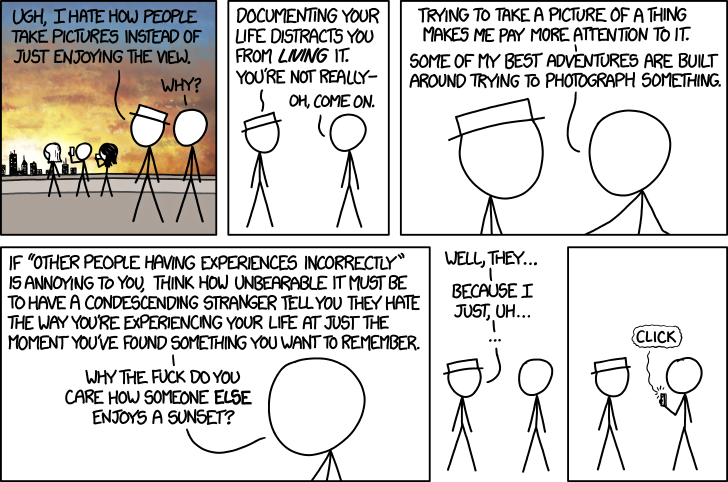 But at the same time I sort of felt like I could identify with both of those little dudes. Sometimes I like taking photos, but sometimes I think it is necessary to just hold off on the photo thing and take it in with your eyes. This is especially the case when I recognise that any photos I am taking just aren't capturing the truth of what I am seeing.
3. I think the birds get confused by the lack of daylight hours here.
Sometimes we sleep with the window open, and they will just be outside chirping at 2am or some such crazy hour.
4. Last week Sarah's QT #5 was something I wanted in on.
I know I've tried the no-snooze-button thing before, and it never ends up sticking. But somehow I think that being inspired by science AND a saint might be enough to make this last a little longer. So far I've managed for a week (technically it was only a four day work week since Monday was a holiday because non-religious Swedes love celebrating Epiphany). Plus why should I just keep letting myself be "beaten in the first skirmish"? I mean really..
5. So, I actually find it really interesting which days Swedes celebrate as holidays.
A lot of their national holidays are actually Christian holidays, but they are starting to change out the days they have as national holidays to make them not religious-centered. For example, the Swedish National Day first
became an official holiday in 2005
, replacing Pentecost Monday.
6. We got a cat calendar for our office.
It hangs next to
the cross stitched dog
. Pretty remarkable stuff going on in this office.
7. On every day of the calendar is the name that is celebrated that day.
It seems that some people will celebrate their name day like a birthday. At the very least probably most people can tell you which day is their name day. It is sort of like celebrating feast days of saints, only different.